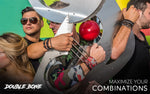 Everything your arm needs is a powerful collection of shine and beauty, because every outfit is not complete without our stunning 925 Sterling Silver and Luxurious 18K Gold bracelets.
If you have already bought a Double Bone bracelet combination, or are you planning to do it so, we have 3 advises to help you maximize the value of your bracelet's combinations. Is not about how many bracelets do you have, is about some tricks that will give an amazing twist to you wardrobe.
First, be aware that you can wear it all together or just a couple ones.
For strong looks, go for a mix of all your bracelets, don't be shy! (just remember the rule of "metals do not mix", always combine bracelets of the same type of gold, click here and read more about it.) Having a covered arm of this awesome Italian Handmade bracelets will make you feel the protagonist and will rise your confidence and mood 1000%.

If you want to get a detailed look, choose your favorite couple of bracelets of your entire combinations. Sometimes using less is more, everything is going to depend on your mood and the way you want to look and feel. Our favorite twin combinations are the one who include a beaded bracelet and a textured one, it can be a stingray or python leather bracelet or a polyester and nylon one.
Mix and create awesome new combinations
When we say mix and match, we really mean it!
You can make a whole new combination just by mixing your existing pieces. Take some from here, some from there, and voilá, a new collection is born!

In here is not necessary to buy a whole new combination, you can get your first arm candy collection and then add some more of your individual favorites pieces, you just need to make sure to use them properly and will boost every one of your outfits.
Exchange with your partner
Out of the three, this is our favorite tip! The flexibility of our bracelets will make it even better. You can exchange your favorite bracelets with your partner and always have something new on your wrist.
Every Double Bone bracelet is unisex if you want it enough. So, if you know someone using this stunning' bracelets, be sure to make a great deal with them and give a new twist to your combinations!