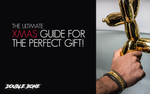 The jingles are already belling, and the Christmas magic has arrived! This season, -maybe the favorite of most of us-, brings joy and hope to share with our beloved and special ones. Even in 2020, a tough year, we have our hearts full of gratitude for being with our family, having good health, and, most important, being alive!
So, as usual, in this season we might be thinking about special presents to give to our loved ones, that's why we want to share with you some affordable ideas we prepared to inspire you with, this is the ultimate Xmas guide for gifts and we will leave all the links below! :D
BUT FIRST…
The first step to get the perfect present for that family member, friend, lover or Secret Santa, is to be clear in the type of personality and hobbies your friend has, this will help you choose something right for them and you will be the most amazing giver they will ever have!
Here, we divided different activities or preferences to be easier for you to look for inspiration, browse into it, and get some affordable ideas for this Xmas holiday!
FOR THE SUN AND ADVENTURE LOVER:
This is for that person who loves the sun and being outside, and is not a surprise that is a person who is always aware of looking good! The perfect gift for them is a pair of Sunglasses, it doesn't matter if you think they already have one, no, they are never enough!
We also recommend to you to take into consideration the type of lenses they usually wear and their favorite color, this way you will choose the perfect color shade and the right shape for him or her! 😎
In here www.vysen.com/ you will find all the amazing options they have,
make sure to go and review each one of them!
BEACH, WAVES AND, SAND, THAT'S ALL THEY WANT:
This is for that friend who is on vacation mode every day of the year and is not a coincidence that every time somebody asks for a destination getaway, he or she is always recommending the beach!
So, get them a beautiful beachwear set and support them into their tanning fantasy!
At Cristalina Swimwear we find so many beautiful options for this gift,
they go from bikinis and cover-ups to beach bags and hats 🌴
ROCKING OUTFIT FREAK:
If your friend is a rocking outfit freak, we may have the perfect gift for him. At Double Bone, we recently added our Demin Jacket, and is receiving as much love as we expected!
So, if you think this response completely to your friend's personality, don't doubt it and buy him this beautiful piece!
Click here and see all the details about this Double Bone jacket!
THE WATCHES LOVERS:
This option is a super match with the ones who are watch lovers. What a better way to show off their favorite watches with perfectly combined bracelets? That's right, something to highlight them is a must!
Pro-tip: Look into their watches and takes note of the metal color of them.
For instance, if she is always wearing a rose gold apple watch, maybe a bracelet with pink gold details must be perfect to enhance her watch and give a new level of elegance to her arm.
At Double Bone, you can find hundreds of bracelet combinations to choose from, and some of them are inspired by watch designs, so we are sure that you will find the right one! Click here and see them all!
FOR THE SHINE AND JEWELS LOVERS:
If the person you are going to give a special gift is a shine and jewelry fan, but fancy jewels are out of the budget, maybe you can opt for some beautiful charms! We took a look into Daoro Jewelry Store and found so many options that you might want to consider.
In here you can take a look at all the shining pieces they have in stock,
click here and we will take you there.
LOVER OF COLD WEATHER, WITH A COZY AND WARM HEART:
Some people are cold-weather lovers, but their heart is so warm and cozy that totally enjoy being inside a good hoodie. If that is the case with the person who are you looking gift for, at Double Bone, we have a Hoodie Collection that is so wearable and look stunning on everyone.
They are available in 5 different colors and you can choose it in the size that is better for you,
take a look in here
and give a hoodie to a homie!
N FOR NECKLACES:
And last but not least, for all those neck partiers, we at Double Bone just have launched a new collection line and this is not the exception for everyone to love it! So, if you think that your friend is an accessory fan, these ones might steal his or her heart.
If you got here, tell us, was this guide helpful to you?
If so, share with a friend in hurry and let them know that for everyone,
there is a special gift they can give in this season!
Thanks for reading, but before you go, tell us, which one of the personalities above, did relate the most to your special one?