About Us
Our Story
Double Bone bracelets is an American based jewelry brand designed in Miami and handcrafted in Italy. Our company started from the necessity of a brand focused on male jewelry designs. Most of the brands on the market in that time, were mainly concentrated on female accessories. So, one night our CEO, who come from a large generation of jewelers, had the idea to start a brand specially for all the fashionable men out there. And yes, in a few words, this is how Double Bone was born.

At the beginning of 2015, we launched our first collection of bracelets, our signature "Double Bone Bracelet", and after that, we just went up! Nowadays we have a lot of different collections and new product lines for men, but also women, and accessories, apparel and much more, we are no longer just a men bracelets brand.

The principal products that we use in our pieces are top quality and they range from 925 Sterling Silver, 18K White, Yellow and Rose Gold, also Black PVD coating and our signature genuine Stingray and Python Leather. This assures you a lifetime accessory to add to your wardrobe, and a long guaranty in all our designs.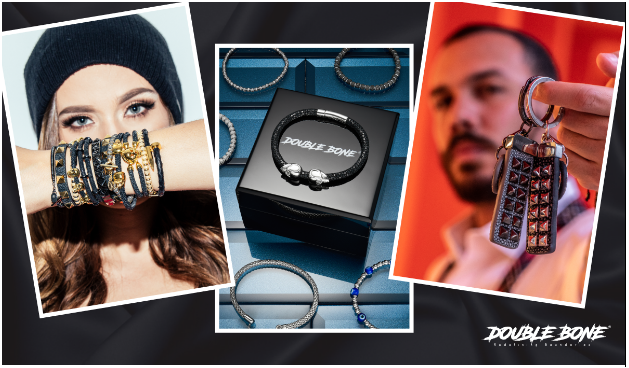 Things we want to treasure
RESPONSIBILITY:
Ecological resources extraction.

According to our ideal concept, we use high-end material while treating all resources as responsibly as we can. At Double Bone we care about the ecological and responsible stingray leather extraction, for that reason, we only get our materials out from authorized suppliers. We are passionate about giving a second life-form to the "trash" skin and turn it into a piece of art.

TRANSPARENCY:
It is what it is.

Transparency is one of our most valuable principles. By buying our products, we want you to have confidence in the value of your inversion; when we say our products have the highest standards of quality, details, and materials, we mean it.

That is why all our products have 5 years guarantee because we want you to feel safe when deciding to wear Double Bone.
INNOVATION:
Always thinking forward.

If something's sure, is that we are never quiet; for us, innovating is our everyday goal. We want you to always have the very last trend and the ultimate looks.

Thinking about a new product, trends and design are what keep us at the forefront of this exciting and wonderful industry.