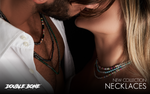 What´s new on Double Bone?

 

Our necklace collection is one of the new accessory lines we are introducing to our brand. In this collection, we have designed two different styles, one adapted to women and one adapted to men, they both differ in length sizes, but both are full of personality and style. 

We have been inspired by our beloved beaded bracelet collection, taking the African beaded and Stone beaded as our principal models in the necklace collection. They both include 925 Sterling Silver beads, and we added the coated option with your favorite color of gold. 

 
This collection comes to complete the perfect outfit for your everyday look. You can combine it with our streetwear collection and also pair it with your very loved Double Bone Bracelets. 
Fashion hack
We want to share a fashion hack with you; the versatility of these necklaces is perfect for you to share with your partner in crime. Due to its similar styles, you can take your boyfriend necklaces and use them as your own, stack them on your neck, and create a new and unique style for your fire looks. 
Want to see the entire collection? Wait no more and click here to see our most recently added items in our store and be the first one in your group to wear them. 
And tell us, what other accessories would you like to see in our store?
We will be reading your comments so, be sure to make your wish in the box below 😉