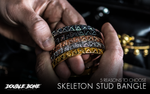 At Double Bone we have a Bangle Collection, and today we want to introduce you to our Skeleton Stud Bangle. This is one of a kind model, so keep reading to know each one of the reasons that makes it unique and fabulous for you.
First, do you know what a bangle is?
This is basically a rigid bracelet usually made of metal, wood, plastic, or glass. At our store, we made it from 925 solid Sterling Silver, coated with 3 microns of 18K Gold that last forever, reason enough to choose it for a lifetime value.
There are 6 colors available to choose from, there is 18K Rose Gold, 18K White Gold, 18K Yellow Gold, Black PVD, Antique Silver, and Graffiti Special Edition.
Skeleton Stud Bangle is a perfect add-on for your combinations, upgrading your look and enhancing your wrist. Perfect to mix with Stingray Leather pieces or metal beaded bracelets. And if you don't believe us, just look at this photo, it's a complete beauty!
The geometrical pattern gives texture and 3d volume to maximize any of your looks. With this bracelet, your outfit will never look bored. Give it a chance and surely you won't regret it.
And the last but not least reason, when shopping Skeleton Stud Bangle, we give you 5 years warranty, allowing you to have confidence and reliability while shopping Double Bone products.
Need more reasons? Guess not!
For us, the Skeleton Stud Bangle collection doesn't disappoint anyone who wears it.