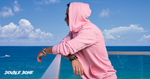 Hey you, are you a jewelry fan but don't have a clue on how to properly wear it? Today we will show you 3 different ways to style up your man bracelets and look smocking good on your office, casual or autumn/fall outfit!
But before we begin, make sure you have already followed the 5 keys to style your man bracelets in our previous entry. Having this into consideration is almost impossible to not look good 😉
FALL LOOK
It's official, the autumn has arrived! And on this occasion, we want to recommend to you a perfect outfit to rock it up in this season. A basic tip to follow is to mix colors like green, oranges, and brown, it would give you a trending look color.
To add accessories for your outfit, a scarf or jacket must be included, and if you want to wear something nice on your wrist, we would recommend a stone beaded bracelet and or a python nail bangle.
OFFICE LOOK
For a work environment look, we propose to you this safe combination of clothing and jewelry. If you are wearing a formal dress, you can opt for a simple but imponent accessories on your wrist, complete the look with a combination of white python nail, a silver small beaded bracelet, and a silver watch.
Remember to combine it with dressing shoes, black or brown would be a good choice and a tissue will be the cherry on top.
CASUAL LOOK
For an everyday look, you can try this proposal to look casual but classy. Try to combine beige pants and a light color shirt with leather shoes and accessories.
To add a little attitude and personality, don't forget a good pair of sunglasses! And also, you can mix the look with our stingray leather bracelets, in fact, the camouflaged collection it's a super match with it.
Which one of the previous styles fits the most for you? Is there another style you would add?
Make sure to leave a comment if this information was useful to you,
we will be posting similar content if you want it so!