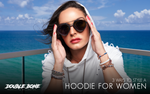 Wondering for ideas to style up your hoodies? We got you!
 In this post, you will find 3 different ways to rock your outfit. Doesn't matter what your style is, these options work for any girl who wants to be comfy and chic at the same time.  So, let's begin!
1. CASUAL HOODIE OUTFIT
The first idea is for a casual occasion or an everyday wear look. You can wear it to going to the movies, or maybe for a coffee date with your girlfriends or just to feel pretty but keeping it low as going to the supermarket.
For this look, we recommend pairing your favorite hoodie with an overlay coat, jeans, and sneakers. This will make you feel fresh and ready to move around with all the confidence that a beautiful outfit can get you.
As a bonus, give extra personality by adding a rocking pair of sunglasses, this will lift your look 100% guaranteed. You can look for our favorites shades visiting this store: https://vysen.com/frames/
And if you want to shop a similar hoodie, just click here and we will take you there: Double Bone Street Wear Collection
2. NIGHT HOODIE OUTFIT
Maybe you are asking yourself, "a hoodie for a night outfit?" Yes, you read well.
In this idea, we have some upgrades you can give to your outfit for a date night look.
Take those high heels and pair them up with fire leather pants and we promise you will look gorgeous. A Hoodie never looked so hot!
Use this look to go to a club, to a dinner date, or maybe just hang out at home with a glass of wine and great company, it's on you!
Remember, the secret to take your hoodies to a next level is confidence. Trust yourself and give a chance to this recommendation and you won't regret it.
Shop a similar hoodie here:  Double Bone Street Wear Collection
3. EDGY
And last but not least, for all those edgy girls, we have this option that you are going to love.
If you are a lover of fashion and good music and style, maybe this edgy recommendation is totally you. Mix an oversized black hoodie with stocking socks, and add a pair of black leather ankle boots and you are ready!
This outfit looks great for any occasion, the only thing you have to do is bring out your rocker chic side.
Looking for a similar hoodie? We have it for you! Double Bone Street Wear Collection
If this blog post was useful to you and want us to keep making content like this, leave a comment and we surely be happy to share more fashion tips and recommendations to your everyday look.
Don't forget to leave a "thumbs up" and share with a friend who probably is looking for inspiration for her wardrobe. See you next time!