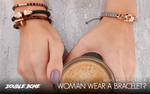 Eeny, meeny miney mo… have you ever asked yourself about which wrist should a woman wear a bracelet? If that have been the case of you, let us spoil you, there is no perfect answer, you can wear your bracelet at the wrist of your preference, there is no rules or anything to stop you using it in the preferable wrist, this is completely up to you.
But, let's not stop there, today we want to tell you a little bit more about the moments it's recommended to use your accessories in a specific arm.
Style it along with your watch
If the desired look you want to achieve is to style up your wrist watch, then ideally you have to wear your bracelet(s) in the same arm. If you wear your watch every day, you must have a clear idea where to use your wrist accessories.
Keep it balanced
If you are already using a watch, and you want to add it as many bracelets as you have but still don't want your wrists to look heavily busy, you can split your accessories in both arms and balance them. So, if you are using your wristwatch on the left, wearing the bracelets on the right will be the best option to balance it.
Wearing it on the opposite dominant hand
Wearing your bracelets in the opposite dominant hand is important. If your dominant hand is your right hand, then you will have to wear your bracelets on the left. Why? Because depending on the material of your bracelets, there can be some textures that at the moment of doing your regular activities with your dominant hand, it will maybe feel uncomfortable.
Which hand do you wear your bracelets on?
Tell us down there in the comment box below! ⬇