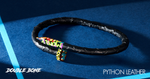 If you're here is maybe because you just got that python leather bracelet you just wanted, and as everything special, requires good care and certain treatment to keep it perfect the longest time.
We will share with you our most important care tips to maintain the quality of the python leather and how you can do it by yourself.
DON'T OVEREXPOSE
Like any other type of leather, you shouldn't unnecessarily expose your python leather bracelets in extreme situations or weather, because it will lose its natural color and shine.
Make sure to keep your bracelet safe by storing it in the pouch given at the time of purchase.
KNOW THE DIRECTION OF THE SCALES
Grab a damp cotton cloth (not too wet!) And wipe it to remove dust or dirt.
You should do it in the direction of the scales. You can know the direction of the leather of your bracelet, by touching it gently through the leather and if it feels soft and smooth, that's the right direction, otherwise, it will feel rough and the scales will raise.
MOISTURIZE IT
Now for the final step, we are going to moisturize our leather. But first, you have to take into consideration these 2 options:
          IF YOU HAVE A BRILLIANT PYTHON LEATHER:
You can moisturize your bracelet with a natural cream, this will keep up the natural shine of the leather.
Take a small amount of natural cream, and apply a thin layer over the bracelet, let it dry, and after that, wipe it with a dry cotton cloth to polish it.


          IF YOU HAVE A NATURAL PYTHON LEATHER:
For this type of leather, you shouldn't apply any substance because it is the leather in its most natural state. It will be enough to clean it with a damp cotton cloth to remove dust or dirt and the natural color and shine won't be affected.
Following the previews easy step, you can extend the life of your python leather bracelets and it will always look great.

If you have a question related to your python leather bracelets, leave a comment in the box below and our specialist will be happy to help you!